Article Sail World
A new breed: BALI Catamarans
by Guy Nowell, Sail-World Asia 4 Jan 05:54 UTC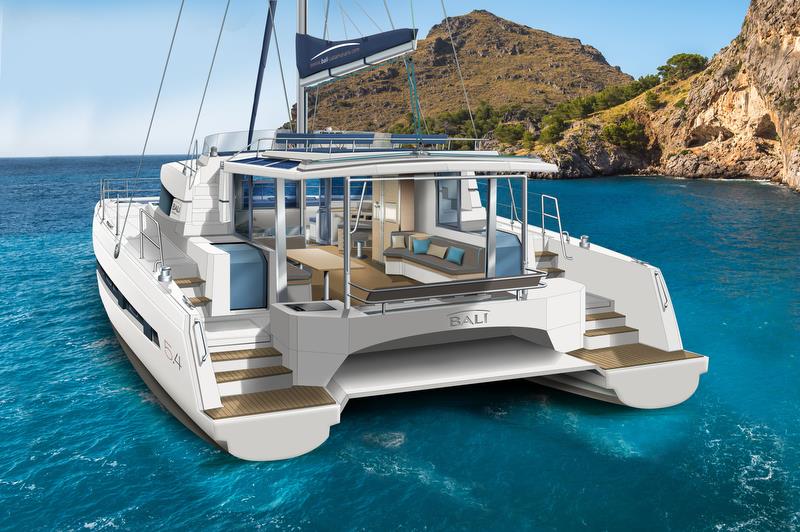 BALI 5.4 © Entreprise Catana
There's a brand new breed of sailing and motor multihulls on the market, right now: BALI Catamarans. World-renowned French shipyard Catana has over 30 years of experience in designing and building top class racing catamarans, and now they have branched out to create something new and contemporary for the next generation of cruising sailors – elegant and seaworthy yachts that incorporate the very latest in design and technology.
BALI Catamarans are only three years old, but the yachts are already receiving awards and accolades from the boating community. Naval Architect Xavier Fay and designer Olivier Poncin have created a unique and stylish yacht in conjunction with interiors from the Lasta Design Studio, merging ergonomic fluid shapes with natural light to make for a more enjoyable and comfortable onboard sailing experience.
Northrop and Johnson Asia have teamed up with BALI Catamarans. N&J Asia CEO Bart Kimman points out that "Asia has long led the way in retail multihull sales. Now the global charter companies are developing their catamaran charter fleets in the top destinations in Asia: multihulls are practical and desirable, and they are here to stay. BALI Catamarans are looking to significantly grow their market share, and teaming up with the renowned Catana Group to launch the range in Asia is a dream come true. Combining state of the art construction with the most innovative designs in the industry, I can't wait to see the first boats arrive in the summer of 2018. Our team will focus on a successful market introduction in the Philippines, Singapore, Malaysia and Thailand."
The sailing range starts with the BALI 4.0 (40ft) and currently goes up to the BALI 5.4 (55.2 ft.). Even the baby of the fleet, the 4.0, shows off many of the features that make BALI Catamarans stand out from the pack. Gone is the trampoline 'foredeck', replaced by a large forward cockpit that constitutes another dining and sunbathing area with easy access to the galley. The L-shaped saloon provides an unreasonably large living space, entirely free of bulkheads, and accessed via an immense folding glazed door. There's an integral aft platform that joins the two hulls, and a large relaxing area on the coach roof for taking in those breath-taking views, and boasting more entertainment space than boats of this size can usually offer. Add in the reassuring high freeboards and high bridge deck clearance, and you have a yacht with optimal sea-keeping qualities wrapped around the very best of contemporary interior design.
All the BALI Catana models offer an extraordinary 'inside meets outside' experience, with natural light and ventilation enhanced by the wide folding and sliding windows. Privacy and intimacy are also ensured by clever design options that allow for shared or individual bathrooms for owners and guest cabins. There's one power cat option on offer, the BALI 4.3 m/y, and it offers the same innovations that make the BALI sailing versions so successful.
Greg Dagge, N&J Brand Manager for BALI Yachts in Asia, says, "We are very excited to be involved at this stage of BALI Catamarans' evolution. Catana have created a compelling series of design breakthroughs including the loft, or bow lounge). The hugely experienced N&J Asia team in our strategically-positioned offices around the region believe that this new range of catamarans is a game changer in all categories of ownership: Private, Shared or Charter. N&J Asia will be there to service all three".